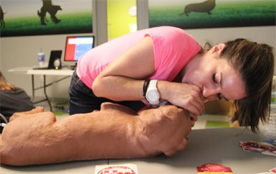 What if our pet, our dog, needed immediate assistance such as cpr or first aid? Think about the ailments your pet, your dog, could suddenly suffer from:
Cuts and bleeding -Poisoning - Drowning - Rescue Breathing and CPR - Simple Medication Administration - Choking - Fractures and Sprains - Animal Bites or Insect Stings - Burns or Severe Cold injuries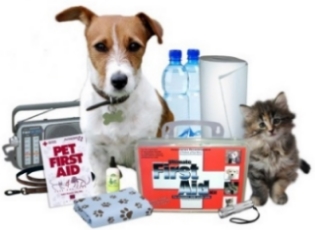 How do you do PET cpr? Click here to learn the steps of pet first aid and cpr. Listed above is just a small list of the types of minor, but life threatening situations an animal owner should be ready for and prepared to deal with. Consider putting together an emergency preparedness kit with: Muzzle: dealing with a first aid situation. Scissors: Used to remove a foreign object that has come tangled in fur. Tweezers: First piece in case of an emergency involving splinters, ticks, and additional objects in paws. Gloves: You have to be prepared to remove lodged food, dealing with blood, etc. Your safety is equally as important. Towels: From stopping massive bleeding, to cleaning a wound, to providing critical compression in a compound fracture. Medical Tape and Gauze: A number of uses but not limited to deal with bleeding or a broken bone! Vets Phone #: This should be on your speed dial on your Smartphone as all Vets have a 24 hour emergency call service! National Poison Control: 1-888-426-4235.